Labor Day has come and gone, mornings are growing chilly, and thoughts are naturally turning back to our indoor spaces. Before you hibernate this fall, there are a few quick and simple tricks that will make your home instantly cozy and inviting. This is especially important if you're planning to sell your home this fall. Try these 5 ideas that embrace the latest trends…
1. Add a Few Warm Accents
Incorporating some earth-tone pillows and a chunky knit throw into your existing color scheme can instantly make it feel more fall-like.  Warm neutrals are still on trend, while tonal palettes are gaining in popularity. You can capture the tonal look by choosing a limited range of 1-3 colors (often tints or shades of the same color tone) and repeating them across a wide variety of textures and materials to create interest. Going warmer and/or darker with tones will add that fall feeling. For those who like a little contrast, consider pops of black or deep navy paired with warm neutrals.
Tip: Buying new covers for your existing pillows and then swapping them out each season cuts down on expense and storage needs (and makes cleaning that much easier).
2. Layer On Some Texture
Adding in a variety of textures can instantly add stylish warmth and a sense of coziness, especially in fall. Woven elements have been hot for a few years and are still trending—try a seagrass tray, woven basket, or jute rug to capture the look. In line with the Quiet Luxury trend, textured fabrics in quality cashmere, wool, boucle, or linen lend a feel of inviting elegance. Drape a woven wool throw blanket at the foot of your bed. Textured vases and natural wood, stone, earthenware, or leather accents are another easy way to transform your space.
Tip: Want to bring seasonal warmth and texture to a grey kitchen? Try woven bar stools, a wooden fruit bowl, decorative cutting board, or even just a simple jar of wooden spoons.
3. Bring a Touch of Nostalgia
The trend of incorporating vintage statement pieces into otherwise modern spaces continues…and provides great opportunities for fall. Consider an accent table or picture frame in warm, reclaimed wood; a vintage autumn print; or an antique-style rug. Heirloom quilts are also trending for fall, whether on your bed or draped over an easy chair. Vintage-style lamps and light fixtures are another fun trend to try, especially as the days grow darker.
Tip: Traditional Turkish, Asian, and Persian style rugs/runners are an easy way to add vintage charm to any room…and they're available in many sizes, colors, and price points. Earth tones are ideal for fall, while warm neutrals go with almost any furniture or season.
4. Consider Curve Appeal

Curvy furniture, accents, and architectural details are all still popular as we head into fall. You might add a rounded stool, arched mirror, or curvy lighting fixture for a modern feel. If it's time to replace your coffee table or dining chairs, consider going with a round option.
Tip: If you're on the fence about curves, try small and affordable pieces like round pillows, baskets, picture frames, and wall art.
5. Finish With Seasonal Botanicals
Natural, organic elements are a surefire way to get that on-trend fall look. Keep it easy—an oversized bunch of pampas grass in a vase, some branches and flowers you found in a nearby field, or dried flowers and stems. Artificial arrangements are a good way to go if you can splurge on something with realistic quality (we won't tell a soul). Pumpkins and gourds are another fun addition and can be found in a variety of interesting colors and textures.
Tip: White pumpkins are available at the grocery store and go with almost any decor. Put them in a wooden bowl for an easy centerpiece, line them up on the mantel, or arrange them next to a vase of foraged branches. Boom…fall.
---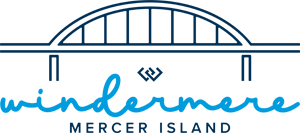 We earn the trust and loyalty of our brokers and clients by doing real estate exceptionally well. The leader in our market, we deliver client-focused service in an authentic, collaborative, and transparent manner and with the unmatched knowledge and expertise that comes from decades of experience.
© Copyright 2023, Windermere Real Estate / Mercer Island.